After one look at the conference agenda, I couldn't find one reason why I should pass up the opportunity to attend the 2011 Write to Inspire conference in Elk Grove, CA. But, I found 10 reasons why I couldn't risk missing it!
10. You'll get 2 days of quality teaching from Karen Ball and Ginny Yttrup for under $100.00!
9. You'll learn about editors, agents, refining your craft, the power of storytelling, finding your voice, marketing, and so much more!
8. You'll be eligible to win a chance to pitch a book idea, or submit a proposal, to Karen Ball. (Editors note: our contest and pitching deadline was Aug. 15)
7. You'll have the opportunity to sell your book on consignment and buy books from the Inspire bookstore during the conference.
6.  You'll have extensive networking opportunities. (Bring your business cards)
5. You'll meet experienced writers who are devoted to investing in God's Kingdom by encouraging you and sharing what they know.
4. You'll fellowship with beginning and experienced authors who respect and understand the perseverance needed to hone our craft as we write for God's glory.
3. You'll have the opportunity to make lasting friendship with other Christian writers.
2. You'll be prayed for before, during and after the conference.
1. You'll experience God using you to encourage others as He equips you to reach the ends of the earth, one story at a time!
2011 Write to Inspire Conference
with Karen Ball and Ginny Yttrup
August 26 & 27, 2011
First Baptist Church of Elk Grove, CA
. . . . . . . . . . . . . . . . . . . .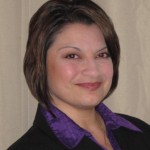 Xochi (pronounced so-she) Dixon is an author, speaker, and Bible teacher who loves Jesus and digging into God's Word. She lives in Fairfield, CA with her hubby, Alan, their teenage son, Xavier, and their doggy-daughter, Jazzy. She enjoys amusement parks, baseball games and reading. Currently working toward a BA in Christian Ministry through Regent University, Xochi serves within the Youth Ministry at First Baptist Church of Vacaville. She writes Teen Fiction, Non-Fiction for women and teens, poetry and devotions.