Today, Focus on the Family will air an interview with Inspire writer Joanne Kraft. Here's a photo of John Fuller, Joanne, and Jim Daly in the studio after recording the show.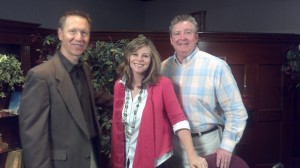 Joanne is a long-time listener (and can I say a huge fan?) of Focus on the Family. You'll learn more about her passion for their ministry on her blog.
She's also passionate about helping moms break the bondage of busyness and create homes where Christ is the center. Her encouragement and exhortation come enveloped in laughter.
Be sure to tell all your busy mommy-friends about the interview so they can tune in too!
During the interview, Joanne discusses her family's head-on collision with busyness and the 12-month radical sabbatical that changed their lives. This season in the Kraft household led to the writing of Just Too Busy, Taking Your Family on a Radical Sabbatical.
In the book, families find simple ways to guard themselves from the temptation of constant distraction.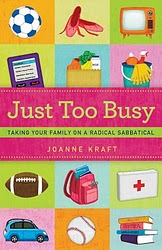 Do you or someone you know struggle with busyness? Leave us a comment and we'll send two winners a free copy of Joanne's book. We'll draw winner's names on Friday.