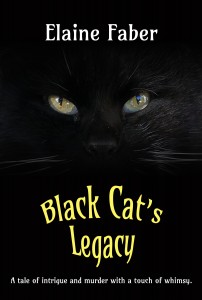 This Saturday, March 29th, Inspire will celebrate the launch of Black Cat's Legacy by debut author Elaine Faber.
The launch party & book signing will be held at the Sacramento County Animal Shelter:
3839 Bradshaw Road, Sacramento. (near Hwy 50).
Open House 1:00 to 3:00 PM.
All black and white cats and kittens at the shelter will be specially priced in honor of Thumper, the black and white tuxedo cat in Black Cat's Legacy. There will be raffle prizes and refreshments. The public is welcome.
Black Cat's Legacy will be available for purchase at a special discounted rate- only $10. (signed by Thumper and Elaine.) A portion of all book sales will be donated to animal rescue organizations, promoting the adoption and spaying of dogs and cats
Bring a friend and join the fun!
Here's a little teaser of the book:
Black Cat's Legacy features Thumper, the Fern Lake Lodge crime solving black cat. Or at least he will be if he can get the humans to pay attention to the clues he places right under their inferior noses. A tale of intrigue and murder, with a touch of whimsy. It will keep the reader guessing until the end.
Elaine's short stories are published in various national magazines and multiple anthologies. She is a member of Sisters in Crime and Inspire Christian Writers, where she serves as a critique leader and editor for the annual Inspire Anthology.