Kathy Shelby has been a member of the Fair Oaks Inspire group since its inception two years ago. Her first published story will be released March 2012 in Inspire's anthology, True Stories of Trusting God. It is a heart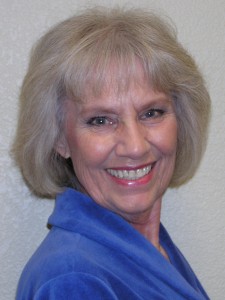 moving story of her faith in a loving God through kidney disease and breast cancer. Last summer she began to experience excruciating pain in her legs, and soon was not able to leave her house. In November a bone scan revealed metatastic bone cancer which finally took her life.
Kathy's writing expressed her great love and faith in our Lord Jesus. She brought a smile on her face and a sparkle in her eye to every workshop and critique meeting. Her writing started during her college days and she came to Inspire to learn how to write her memoir. She wanted her story to show how she depended on God for everything. Her sense of humor kept us laughing, but her stories had a depth of faith that ministered to everyone in our group. Although she didn't get to write her life story, her family and friends will say that her life is her legacy.
I knew I could depend on Kathy for last minute critiques and prayers before submitting my work for publication. She made herself available no matter what was going on in her life and I loved her for that.
As in any critique group, some manuscripts are harder to critique. Kathy was sensitive to how each person received comments. We all wanted to share our comments in a spirit of love and encouragement. I knew that Kathy and Leota prayed during the difficult meetings, and their prayers were answered. Because of their love and prayers, our Fair Oaks Inspire group is a safe place to grow our writing craft today.
Kathy also contributed at the larger workshops by praying for our speakers as well as working the library table. We will miss her cheerful service and beautiful smile. I'd like to think she is serving our Lord in His library upstairs or writing inspiring stories of faith to encourage the saints. Although we will miss Kathy, I am glad she is Home for Christmas. There is no better place to be.
If you would like to express your condolence to Kathy's family, please send you cards and letters to Inspire's mailbox at: Terry Shelby at Inspire Christian Writers, P. O. Box 276794, Sacramento, CA 95827. I will make sure Terry gets your mail. No word yet on Kathy's memorial service, but I will advise you when I receive that notification.
 . . . . . . . . . . . . . . . . . . . .
Author of more than eighty articles and stories, Sue Tornai lives with her husband John and dog Maggie in Carmichael, California. They enjoy camping and fishing at Lake Almanor and the Feather River in Northern California. Sue has taught elementary Sunday school for more than twenty years. Her most rewarding experience as a writer is when someone tells her that something she wrote touched a heart or changed a life. "That's why I write," Sue says. "I write to inspire people about God's amazing love. I write for His glory."
Visit Sue on her website at www.suetornai.com.
.