How long have you been a member of Inspire?
Since the beginning when the idea of a writing group was a twinkle in Beth Thompson's eyes.
What prompted you to join Inspire?
I was seeking more depth in my writing.
Was there a particular moment when you knew you were a writer?
The first time a short story of mine was published in an anthology.
Describe your writing career high point and low point.
The low point was at Mount Hermon Christian Writers Conference when my book wasn't what they were looking for in fiction. High point was giving my legacy book, Raising Paul, to family members.
Which of your stories is the closest to your heart?
Always the book I'm writing, A Time to Mourn, A Time to Dance. I live and breathe with the characters.
What project of yours is gathering dust?
Joy Bells, the story of my missionary sister-in-law's life in Iran, is waiting for more editing.
What's next for you?
Writing a three book series based on the first book, The Unintended Life.
What have you read recently that you couldn't put down?
Brandilyn Collins' book on writing, Getting into Character, and all her novels.
What does it mean to you to be a writer?
A passion to rise and write the thoughts worked out in my dreams.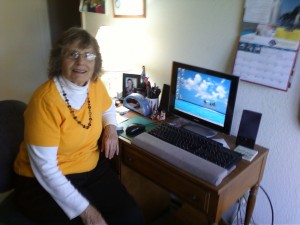 Was there a book that changed your life?
As a child, I couldn't put down the Nancy Drew series. I wanted to write books like them.