When did you join Inspire Christian Writers?
"In the beginning God and Beth created…"
What prompted you to join Inspire?
My writing was disjointed and I needed critiques and deadlines to get any writing goals accomplished!
When did you first know you were a writer?
On my 30th birthday I realized how disappointed I felt having NOT written my singles book. At the time I felt I weathered enough storms to encourage other singles how to ride the waves –when everyone gets married in your group but you—and stay trusting and hopeful surfing solo.
Later, speaking with other writers I realized many start journaling young, as I did. I started journaling in third grade. Yes, I also have a box of diaries.
Describe your writing career high point and low point.
My low point was a critique from my non-fiction idol after a mentoring weekend in Nashville. When my critiqued chapter returned (no email at the time) with the words "show don't tell" and that I "didn't get it," the hippopotamus head shot down to the bottom of the pool in hiding.
The hippopotamus head represents me writing. He's either under the water–I'm not writing, bubbling up–urge is coming, small jots or tittles, or his head is exposed and surfaced–I'm working and writing. He stayed "down under" for two years. I didn't lift the pen.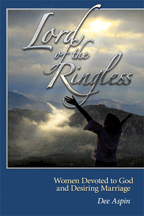 My high point was when a Waterbrook editor at Mount Hermon wrote "I'm excited for you. You have my blessings." Even though my project never got past the pub board, it was the boost of confidence I needed to self-publish. It also prepared me for that most amazing moment when I finally felt like a writer.
At 52 I walked out of Kinko's with the 387-page manuscript Lord of the Ringless ready to pdf. For the first time in my life I felt like a writer and that I had reached a life goal. By the way, I found in a journal 13 years earlier where my dad said, "You are never going to write that book." It is a miracle from God. It came from a lot of prayers and writing buddy, Beth! And the final product was nothing like what I began with.
Tell us about your most memorable interview.
Hands down it was with my nephew's friend Alan Bagh. He is the primary actor in Birdemic (2010), a terrible ten-thousand dollar budget remake of "The Birds." It was deemed "The world's worst movie" and became a cult flick. Alan is getting ready for a sequel now. I loved learning how he became an actor and learning about his world and the difficult journey.
How did you react when you received your first acceptance or publication?
When Christian Reader paid me for an article, it was unreal.
Describe receiving your first book contract.
So far my book contracts have been collaboratives: two with Barbour contributing dog and cat devotions, one each with Guidepost and Regal for the stories I wrote for them. The contracts were nice to have, but since the books weren't all my writing, didn't pack a punch. It felt just like a contract to write an article.
What project of yours is gathering dust?
I'm slowly preparing to release Dogspirations, my dog devotional. All my own devotions, yay! I just picked the cover photo last month with some friends. We looked through the best pictures of Benji, a schnauzer and Sammy, my Lab. Edited by wonderful Inspire members over the years, Beth, Dana, Sue, Beth, Julie, Chris, Diane, Kris, John, Jennifer, ( I started in 2004, when God called me to write this).
What's next for you?
After this book is out, I have another project I brought to Mount Hermon two years ago and met with Joe Bentz to discuss. It will be a brochure called, "The Dating Dock." A quick analogy to bring some structure to the dating maze, haze.
What does it mean to you to be a writer?
It means I encourage someone somewhere who needs encouragement. I bring the words, thoughts, and stories God has brought me to fuel someone's faith, ignite their hope again, and never to give up aiming for the highest—giving and receiving Love. Loving God. Loving our fellow man and ourselves. Only these are eternal, only these three will remain after all is said and written.
Was there a book that changed your life?
The Bible and the stories of the Bible. The poems and songs of David. The Words of truth Jesus spoke in all the gospels. The Sermon on the Mount. Other than this, The Hiding Place, by Corrie ten boom. It impressed me how great our God is beyond the darkest times. He is a strong tower we can run into and be safe, no matter where we are.
Describe your writing environment. Or better yet, include a photo.
I just invested in my office to make it a place I can write. New carpet, desk by the window, new shelves for all my books. Even a new lateral file to bring all my files in small file cabinets into one place. God is a God of order and I am one of those people who cannot operate with disorder around. This was my birthday present.
What is the best writing advice you have ever received?
"Just Do It." Connie Neal (Dancing in the Arms of God) was my instructor at my second Mount Hermon Christian Writers Conference. I used to meet with her yearly and she always said the same thing. It's true.
To connect with Dee Aspin, visit her website or find her on Facebook.