How long have you been a member of Inspire Christian Writers?
I just joined Inspire in March.
What prompted you to join Inspire?
I kept hearing about Inspire through friends—Marci Seither, Xochi Dixon, Beth Thompson—and they seemed to have a wonderful camaraderie. I liked what I heard about the focus on prayer, critiquing, and encouraging our fellow writers, whether they were published or not. I love the support that Inspire offers.
When did you first know you were a writer?
In fifth grade a friend lent me a copy of Anne Frank and I got completely obsessed. Even hiding from the Nazis seemed exciting. (I was pretty weird back then.) It triggered a sudden desire to record my thoughts and be immortalized in a book.
Several years later, I was struggling to pass an oceanography class and got a chance to write an underwater fantasy as extra credit. I wrote a really cheesy story about a girl who lived on an island and found a magic necklace that allowed her to swim under the sea with the dolphins. My teacher gave me the maximum amount of extra credit and said my story would make a wonderful children's book. That's when I discovered that I actually had the ability to write and really wanted to pursue it.
Describe your writing career high point and low point.
I think the high point was when I got a chance to write for Focus on the Family's Brio Girls Series, and then one of their Brio devotionals. It was like things were finally falling into place and my hard work had paid off.
This past year has been a low point in my career. A lot of difficult life situations have sucked away my time, energy, and creativity. I had to set some projects aside to focus on writing that would bring in income. I'll confess that it has been frustrating and discouraging, but I think God is starting to pull me out and show me that He has something new ahead.
Tell us about your most memorable interview.
Recently I had an opportunity to interview a couple from church who experienced an unbelievable medical crisis (the husband was in a horrific motorcycle accident that should have killed him—in fact, he was pronounced dead three times before reaching the hospital) that turned into a series of miracles. I had followed their crisis with the rest of our church family when it happened; I knew them and had heard their testimony, but something about sitting down with them and hearing even more made me aware of God's hand in their lives.
I saw their love for each other and for God in a much deeper way. Even if we never finish the book, I will treasure my time getting to know them.
Which of your stories is closest to your heart?
Actually, it's the novel I'm working on now. It has taken a long time for me to gain the courage to tackle it but I finally did after the Mount Hermon Conference. The novel is about a girl growing up with Achromatopsia (the same rare eye disease that I was born with, which causes low visual acuity, total colorblindness, and extreme light sensitivity) in San Francisco around the time of the 1906 earthquake. I alternate between her point-of-view and her normally-sighted sister.
I have always wondered what it might have been like for me to grow up during a different time period. Researching topics like eugenics and how the blind and visually impaired were perceived in the past offers constant reminders of God's grace, just in allowing me to be born in the late 20th century.
How did you react when you received your first acceptance or publication?
The first story that I submitted to a magazine was accepted. I'm certain that was God's way of saying, "See, you can do this." The small check I received might as well have been a million dollars.
"Jay, you're going to be famous!" My sister Kristy said.
"No," I told her, secretly feeling a tiny bit famous already.
I felt like I was finally on my way to achieving a dream.
Describe receiving your first book contract.
My first book contract was a work-for-hire opportunity. I had "auditioned" to join the writing team for the Brio Girls and accepted that they must have chosen someone else when, out of the blue, Lissa Halls Johnson called and asked if I would like to write for the series.
"Yes," I said without hesitation.
The first draft was due in four months but I didn't care. I was writing a book!
What project of yours is gathering dust?
A few years ago, I wrote a proposal and several sample chapters for a devotional for women struggling with depression. I would really like to tackle this project someday. While I wait, God continues to reveal new areas of healing and how this might bring hope to others.
What's next for you?
I'm not exactly sure. I have been praying for direction. At Mount Hermon, I sensed God prompting me to start writing more honestly about some struggles that He has freed me from, lies that almost ruined me, and even what He has taught me through growing up with limited sight. I'm still figuring out what to do with the ideas that are coming to me, but I am also getting excited.
What does it mean to you to be a writer?
For me, it means allowing my experiences, both good and painful, to count for something. When God teaches me something, I immediately want to share it, and writing allows me to do that.
I feel like I found my voice through writing. Before I wanted to be a writer, I dreamed of being an actress. Looking back, I know I felt drawn to acting because it allowed me to hide behind a script or a character. Writing helped me find the freedom to be myself and the courage to let people see what is really going on inside my mind and heart.
Was there a book that changed your life?
One of my favorite books of all time is Hinds Feet on High Places. I immediately identified with Much Afraid, because I lived that way for so long. Seeing her journey to surrendering to the Father, and her transformation into becoming Grace and Glory gave me hope that God might do the same thing in me.
Describe your writing environment.
Technically, I have an office, but it has never been completely mine. When God surprised us with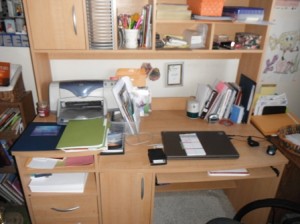 Nathan ten years ago, my office doubled as a nursery for almost a year. After that, it was half office, half playroom. Now it is a catch-all for things that I don't know what to do with.
It's cluttered and full of random stuff, but it has become my spot. The book border that I hung when we first moved into this house reminds me.
What is the best writing advice you have ever received?
Be authentic. I spent a lot of time trying to write like other people, or what I thought would sell. Then God helped me see that readers and editors appreciate my writing most when I loosen up and write like myself. So I'm trying to do that more and more.
To connect with Jeanette, visit her

website

or friend her on

Facebook

.