How long have you been a member of Inspire Christian Writers?
I've been a member for several years.
What prompted you to join Inspire?
I first began attending Inspire several years ago when there was only one group meeting at Warehouse Christian church. But my younger son was still a baby and not sleeping through the night, and by the time the critique group started (it was held at night) I felt too exhausted to really engage. So I dropped out.
Then a few years ago, I woke up one morning and really felt like I should pray for God to bring more writer friends into my life. After I finished, I checked my email and saw a message from Beth Thompson that a daytime group was opening up in El Dorado Hills and would provide childcare. My son was in preschool by this time, so for me the Inspire group was a direct answer to prayer.
When did you first know you were a writer?
I don't know that I had an "ah-hah" moment when I realized that, yes, I am a writer. It's taken me a while to be able to claim the title of writer. But I did have a moment when I was at a birthday dinner for a friend and someone gave her a journal. Something in me just "clicked" that night, and I remembered how much I liked to write as a child. Soon after I started writing, and I haven't stopped.
Describe your writing career high point and low point.
The low point was finishing my first novel and realizing that, although it was decent first try, it wasn't good enough for publication. The high point? Getting the email from my agent that Seeing Cinderella had sold, definitely. It's hard to describe how incredible that felt.
Which of your stories is closest to your heart?
That's sort of like asking me which of my sons is my favorite. I love each story uniquely. My first novel occupies a special place in my heart solely because it was my first try. Seeing Cinderella means so much to me in terms of the storytelling, and I love my third novel, Plastic Polly, just as much as the first two.
Describe receiving your first book contract.
Exciting, confusing, overwhelming, and thrilling. It was—and continues to be—an emotional roller coaster. But one I'm so incredibly thankful to be on.
What project of yours is gathering dust?
My first novel is gathering dust. It's been condemned to the dusty recesses of my hard drive. Someday I may want to pull it out and try to rewrite it, but for now it's moldering away in manuscript purgatory.
What's next for you?
I just finished revisions on my second novel, Plastic Polly. It's about a girl who's the second most popular girl in her middle school. Many of her classmates call her Plastic Polly behind her back. It's inspired, in part, by a phrase I heard a lot growing up, which is, "She's so fake."
That statement has always intrigued me, because what does that even mean? To an extent, we all wear masks, and yet we're all authentically who we are, and so I wanted to write a book from the perspective of the girl many people didn't like in middle school.
But, I also need a lot of fun in my projects, so Polly ends up having to coordinate a talent show competition between her middle school and their rival school. She finds out that only the popular kids (as opposed to the most talented kids) are being selected to participate in the competition, and she has to decide what she's going to do about it.
What does it mean to you to be a writer?
So much. My favorite verse in the Bible is Ephesians 2:10 which is, "For we are God's workmanship, created in Christ Jesus to do good works, which God prepared in advance for us to do."
When I finish one project, I'm always asking God, what is the next "good work" He has for me? Right now, He has me writing mainstream middle grade novels, and I'm excited to see where He'll take me—and take all of the Inspire writers—in the years to come.
Was there a book that changed your life?
The Harry Potter series had a huge impact on me. I read J.K. Rowling's work and I'm mesmerized by her ability to develop a world so completely. She makes me want to be a better writer.

What is the best writing advice you have ever received?
The best writing advice I ever received came from Laura Jensen Walker who told me I should, "Make my writing fit around my life, not the other way around."
I feel really grateful to have had the opportunity to learn from such an established author. And as I navigate through launching Seeing Cinderella this month, finishing revisions on a second book, and drafting a third, I realize how true her words are.
I'm really lucky to be where I am, but my family has to be first, and writing has to be second. Some days that's hard to remember with all the deadlines and "to do" lists on my desk, but I'm trying.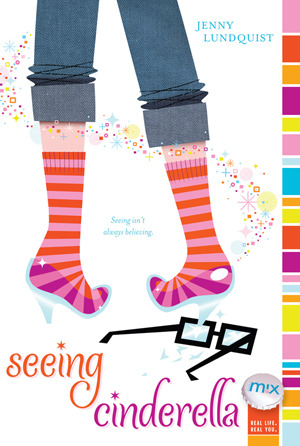 You can connect with Jenny at her website.
Mark your calendar for:
Seeing Cinderella Book Launch Party
March 31, 2012 1-3pm (Saturday)
Barnes & Noble
6111 Sunrise Blvd
Citrus Heights CA 95610
RSVP on Facebook if you want