How long have you been a member of Inspire Christian Writers?
Four Years.
What prompted you to join Inspire?
I desired to take my writing more seriously and found Inspire on Faithwriters.com. It was there I discovered that they had a critique group. I built up some courage and attended. One of the best things that I ever did!
Was there a particular moment when you knew you were a writer?
It took a few years and a couple published articles before I considered myself a writer. I've since realized that a writer is a writer long before they're ever published. A writer writes. Period.
Describe your writing career high point and low point.
Writing career low point would have to be when my publisher rejected all of my book titles and went with one of their own. My writing high point continues to change because I have had a lot of them. Getting a book contract was a high point, but so is every time I have an article accepted and published.
Describe your most memorable interview.
That would have to be when our local newspaper showed up at our front door and I'd forgotten our appointment. I'd just returned from a three mile walk and hadn't even showered yet! Their photographer took lots of pictures and I wanted to crawl under a rock when my photo made the front page of the paper!
What did you do when you received your first acceptance or publication?
Jumped up and down, laughed, and grinned from ear to ear for about two weeks!
Describe receiving your first book contract. Or agent contract.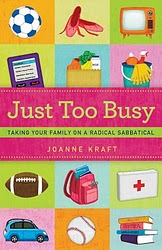 As much as I couldn't wait to share the news with my husband, it was Beth Thompson who got the first call after him. I think she was more excited than I was.
When I landed my agent, Rachelle Gardner, I was just as happy. I already had my book contract when she found me, so I can't wait until I give her my next book proposal and see what she can do with it!
What project of yours is gathering dust?
Well, right now it would have to be my book proposal. I've been busy marketing my book, Just Too Busy—Taking Your Family on a Radical Sabbatical and remodeling our kitchen. (Which looks fabulous, by the way!)
What's next for you?
I have a feeling there's lots still in my writing future. For now, I'm speaking to women's groups/MOPS groups/women's ministries. It's been a real joy to encourage women. I absolutely love it!
What have you read recently that you couldn't put down?
I am one of those people who read lots of books at the same time. I am reading the memoir by Rhoda Janzen, Mennonite in a Little Black Dress. Just finished The Lovely Bones and didn't much enjoy that one. The book that I had a hard time putting down was Ginny Yttrup's novel Words.
What does it mean to you to be a writer?
Being a writer is an amazing charge to keep. Thoughts, experiences, tiny moments captured in words—what a blessed career to have.
Was there a book that changed your life?
I can't say there was just one. As a little girl, I loved A Tree Grows in Brooklyn and the many Judy Blume books that showed me the power of story and the escape a good book brings.
Describe your writing environment.
My writer environment is pretty schizophrenic. Some days I write at my kitchen table, other days I'm on my couch, and there have been times I've written at my favorite coffee shop. My absolute favorite place would have to be my girlfriend's cabin in the woods. God meets me there every single time.
To connect with Joanne, visit her blog: www.joannekraft.com, friend her on Facebook or follow her on Twitter