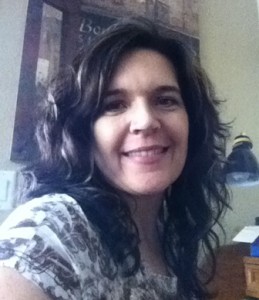 How long have you been a member of Inspire Christian Writers?
About 6 months.
What prompted you to join Inspire?
I wanted a writer's critique group and Beth is amazing so I knew Inspire would be also.
Was there a particular moment when you knew you were a writer?
Not specifically. I used to sit with my mom's typewriter and tap out stories.  When I went to college, I took a creative writing class and I realized what I wanted to do with my life.
Describe your writing career high point and low point.
High Point – Finding my agent and feeling I can move forward.
Low Point – Taking ten years to get my first book done and having it rejected.
Which of your stories is the closest to your heart?
My first book – it is a based on my mother finding out she is adopted.
Describe receiving your first book contract. Or agent contract.
I felt like there was actually a chance to move forward as a published writer. And it felt incredible to know someone in the business side of things actually liked my story.
What project of yours is gathering dust?
My first book was, but I just re-wrote it and am going to try and publish it as a romance.
What's next for you?
Trying to publish my first book as a romance and then finishing my YA fantasy I am almost done with.
What have you read recently that you couldn't put down?
Firethorn by Ronie Kendig
What does it mean to you to be a writer?
Everything. It's the only way I know to work through what I see, feel, and know about life.
Was there a book that changed your life?
The Poisonwood Bible is one that made me think and stayed with me for years.
Describe your writing environment.
I have a home office, but I move around.  Sometimes I set up in my dining room, sometimes outside, and sometimes in my kitchen. It depends on my mood.
You can connect with Lara at: http://www.laramvanhulzen.com/
Or on Facebook: https://www.facebook.com/pages/Lara-M-Van-Hulzen/272617162772257