How long have you been a member of Inspire?
Five years.
What prompted you to join Inspire?
From the very first meeting, it felt like a safe place to bring my writing and grow my craft.
Was there a particular moment when you knew you were a writer?
Yes. It was the day I received the assignment from Augsburg Fortress to write fourteen Bible stories for Spark Story Bible.
Describe your writing career high point and low point.
The low point happened during my training with Christian Writer's Guild. Wanting to quit, I called the dean and told him I wanted my money back. I told him I wasn't a writer and I didn't know what I was thinking when I signed up. He patiently talked to this crying woman, prayed with her and gave her another mentor. He said if I felt the same after the next couple lessons, he would give me my money back. My mentor, Julie Allyson Ieron, led me to complete the course and start my writing career while I was working full time in financial services. The high point in my writing career is when I hear that something I wrote touched a heart or changed a life. It happened with my first devotional published by The Upper Room in 2007. A blind woman in Washington D.C. called to tell me she read my meditation in braille, and it inspired her. I submitted the devotion to Susan King at Writing for the Soul conference in 2005. She commented on it and said, "If you make these changes before the end of the conference, I'll take it home with me."
Describe your most memorable interview.
My most exciting Interview was with Denny Keitzman, Production Manager of Casting Crowns, for the article, "Who Woulda Guessed?" It was a telephone interview on an assignment for Light and Life.
Which of your stories is the closest to your heart?
"Emily Goes Camping." It was published by Kid Zone, a Sunday school take home paper. It's about a girl who lives a princess lifestyle whose mother signed her up for a Girl Scout camping trip. Emily overcomes her critter fears long enough to help a hurting friend.
What did you do when you received your first acceptance or publication?
I was really excited when the Rancho Cordova Grapevine accepted my profile of Peter Arballo about how wheelchair sports changed his life and brought him into a relationship with God, AND disappointed when the editor edited out all references to God. The profile was later published by Light and Life magazine.
What project of yours is gathering dust?
Dancing for the King, a Bible historical novel about Salome whose people-pleasing efforts won her Herod's reward for her exotic dance. "You may have anything you ask," he said, "up to half my kingdom." I started it when I was working on the Christian Writer's Guild "What's Your Story?" apprentice writing course. It's been on the shelf for years, but I took it down after  our Write to Inspire conference. I took it down, but haven't opened it yet. It has a wonderful story of redemption and some day (soon I hope) I will write it.
What have you read recently that you couldn't put down?
A Quilt for Jenna by Patrick Craig, whom I met at Mt. Hermon in the Writing for Children morning track. A Quilt for Jenna is about a young Amish woman, Jerusha, who endures incredible losses and blames God. Her dreams to leave the God and people of her youth culminate in making a beautiful quilt, sure to win the prize at the county fair. Although she thought her quilting skills would be her ticket to a new life, she found something more precious than a new life when she experienced God's amazing love. Agent Nick Harrison is pitching it for Patrick this week. I'm praying for God's blessings on this book.
What does it mean to you to be a writer?
First of all, I'm a Christian. Writing is a tool I use to serve God. My articles, stories and blogs are about His stories in the Bible and in my life and those of people I interview. I write for His glory.
Was there a book that changed your life?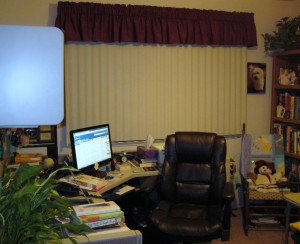 Yes, the Bible. Second to that is Redeeming Love by Francine Rivers.
Describe your writing environment.
My monitor stands on an L-shaped desk with overhead storage. Above that is a tapestry of my Lord at the Last Supper with His disciples. In the midst of stacks of the books and papers of projects, are plants, crosses, and pictures of my family. In front of me is a view of tree and shrubs, the house across the street and the church on the other side. Behind me is a rocking chair with a singing bear named Mary Ann, a bookcase of Bibles and reference books, a supply cabinet and file cabinet. This is where I study God's word, pray and write.
I hope you'll visit me on my website at www.suetornai.com.