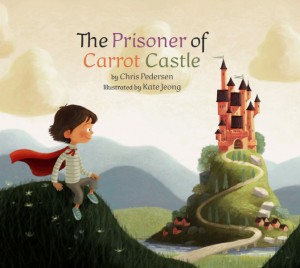 The Prisoner of Carrot Castle is now available for the iPad on the App Store for only $2.99.
Grab your cape and join the fun! Aiden is just an ordinary kid—loves costume play, watching clouds pass by, seeing castles in the sky… and he doesn't like vegetables.
In The Prisoner of Carrot Castle Aiden's imagination transports him to a far away place where he finds himself a prisoner in a cell made of carrots. What will he do? Must he face the angry King? Will his hate for vegetables get him in trouble? Come along and help Aiden as he tries to escape from Carrot Castle.
When Aiden gets stuck, kids play a role in helping him move ahead in his adventure. The story comes alive as the text is read. Find silly animations and sound effects as the action unfolds.
Through creative storytelling, kids learn that eating vegetables is good—it can actually help them.
The Prisoner of Carrot Castle is an original story written and illustrated for the iPad. Targeted for kids 3 to 8-years-old, the story's interaction and games help them develop fine motor skills.
Download your copy of The Prisoner of Carrot Castle, please tell your friends, rate it and write a review.
. . . . . . . . . . . . . . . . . . . .

Chris Pedersen and her husband live with a chocolate lab named Brandy in the beautiful Sierra foothills in California. Chris writes for children and loves crafting nonfiction stories from real life. The Prisoner of Carrot Castle is her first iPad app. Her other work in process is a chapter book titled How I Survived Third Grade.
Published work includes Work and Wag, about dog jobs, in Clubhouse Jr. Magazine and A Saving Transformation, in THE DOG NEXT DOOR published by Revell. In addition, since conquering cancer with diet, Chris blogs about health, her heart passion, at Healthy Journey Café where she dishes out recipes and tips to achieve optimum wellness. Her writing journey is chronicled at Paws and Ponder.
 Editor's note: Here's your chance to help a fellow writer with a product launch. Let's help Chris get the word out. Use your Facebook, Twitter, Google+ and blogs to let people know this app is now available.